What Gen Z's Impact on Social Commerce Means For Your Brand

As the first generation to grow up with social media, it's no surprise that Gen Z has had a profound impact on social commerce. For brands, this means understanding how Gen Z uses social media to make purchase decisions and adapting their social commerce strategy accordingly.

As the oldest members of Gen Z enter adulthood, they're having a profound impact on social commerce largely due to their unique relationship with technology. They grew up with the internet and social media, making them more comfortable with digital communication and transactions compared to previous generations.

In this post, we'll look at how Gen Z's shopping behaviors are directly impacting the way brands use social commerce, and what brands can do to ensure their strategies are successful moving forward.
What is social commerce?
Social commerce is a form of e-commerce that involves social media, online communities, and user-generated content. It is a relatively new phenomenon characterized by its use of social media platforms to facilitate the buying and selling of products and services.
While social commerce is still in its early stages, it has the potential to revolutionize the way we shop online. By making it easier for users to find and share information about products and services and shop directly from social platforms, brands have the potential to make the shopping experience more efficient and enjoyable.
Gen Z shopping behaviors are leading to the rise of social commerce
As Gen Z grows into adulthood and gains more spending power, they're entering the world of consumerism with their own ideals, creating new shopping trends for brands to keep up with. 
Here are some commerce trends fueled by Gen Z shoppers.
Sustainable shopping
Gen Z is all about sustainable shopping. This is largely due to the fact that they're more environmentally conscious than any other generation before. They're willing to pay more for products that are eco-friendly and that will help reduce their carbon footprint. In addition, Gen Zers are also interested in supporting environmentally responsible businesses.
Decreased spending
Gen Z is very mindful of over-consumerism, which results in them spending less. They're willing to save for items they really want or need, and are also willing to wait for sales or discounts. Seeing previous generations struggle financially throughout recessions has made them more budget-conscious consumers. 
Supports ethical businesses
There's a growing trend among Gen Z consumers to support ethical businesses. This generation is highly aware of today's social and environmental issues and they want to support businesses that have a positive impact and that align with their personal values.
Prefers mobile payments
Gen Z is spending more on mobile payments than any generation before. The vast majority of them are comfortable making mobile payments, and many see it as a more convenient way to pay than using cash or card. This preference holds true both in stores and for online payments, such as with contactless payments.
Looks to influencers
Influencer marketing is poised to become even more important in the coming years as Gen Z turns to their peers and trusted influencers for recommendations. This generation is less trusting of big brands and traditional marketing methods, instead turning to people they know, or influencers they feel they can rely on when it comes to making a purchase decision.
How is Gen Z contributing to the growth of social commerce?
The market size for social commerce was estimated to be valued at 584.91 billion USD in 2021 and is set to grow at increasing speeds before the end of the decade, with a projected market value of 6.2 trillion USD in 2030. In large part, this booming shopping trend is due to Gen Z, who dedicate a lot of time to browsing social channels.
Let's take a look at a few statistics of just how much of an impact Gen Z is having on the current rise of social commerce that we're experiencing today:
Given the increased use of e-commerce on social platforms, it's more important than ever for brands to implement a social commerce strategy that captures a young and increasingly influential audience.
How can brands up their social commerce game to keep up with Gen Z?
Brands who want to succeed don't only need to stay afloat throughout the rise of social commerce and Gen Z-led shopping trends, they need to embrace the changes and implement new strategies. 
These are a few ways brands can remain competitive in the social commerce space:
Utilize influencer marketing
Leverage the reach and engagement of influential social media users in order to connect with a younger audience. By working with influencers who have a large and engaged following, brands can tap into new audiences, drive traffic and sales, create brand awareness, and amplify their reach and impact.
Ensure you're operating ethically
As Gen Z look to purchase from brands that align with their ethics, brands need to consider their own operations to match their customers' expectations. Brands can operate more ethically by being transparent about business practices, being honest in marketing and advertising, and treating employees and customers fairly.
Simplify payment options
Mobile payments, in-app payments, and buy now pay later options encourage more sales and customer loyalty. As social media platforms are constantly changing and adding new features, it's essential to ensure payment methods are up-to-date and easy to use.
Prepare omnichannel strategy
A multichannel commerce strategy is a good start, but it may not be enough. You need an omnichannel strategy to better understand your customers' needs. In turn, this can improve your social media presence and conversions by creating a seamless experience across channels. By integrating social media into their overall commerce strategy, brands can provide a consistent tailored experience for customers no matter where they shop.
How Cymbio helps brands grow their omnichannel strategy
An omnichannel strategy involves providing a seamless experience for customers across all channels, including online, in-store, mobile, and social media. The problem brands are facing with this type of marketing strategy is that syncing all of these experiences requires a lot of resources. 
That's where Cymbio comes in.
To help smooth the implementation of your omnichannel strategy, it's important to use the right tools that will help you become as efficient as possible while using minimal resources and budget. With Cymbio, brands can sell their merchandise on a number of channels, such as retailer websites, marketplaces, and social media, while controlling all inventory and sales from one platform.
Cymbio enables you to solidify your social commerce and omnichannel strategy by:
Allowing you to scale your digital sales and expand to new channels

Integrating with your existing e-commerce platform, such as Shopify, Magneto, WooCommerce, and others

Minimizing time-to-market for selling on new channels

Automating manual order management tasks to provide quick service and a better customer experience
While there are many benefits to implementing an omnichannel strategy, it's important to keep in mind that it's not a one-size-fits-all solution. Every brand is different, and what works for one may not work for another. Cymbio can help you find a solution that fits your unique needs.
To wrap up

Gen Z is only going to grow in influence as they age, so brands that work towards catering to this demographic now are in a better position to set themselves up for success later. Tackling your omnichannel strategy now is one of the most effective ways of accomplishing this, and Cymbio is there to help you seamlessly sell on new social and digital channels.

Boosting Valentine's Day Sales: 6 Proven Strategies For Brands

Roses are red, violets are blue, here are six actionable Valentine's Day sales tips for you!

If you're on the fence about whether your business should participate in Valentine's Day sales, we're here to tell you that you shouldn't sit it out. Using the right strategy, anything can be giftable and marketed for Valentine's Day. With these 6 tips, you'll be able to maximize your Valentine's Day sales with strategies that fit your business's specific needs. 
Valentine's Day: is your business ready?
Valentine's Day follows a similar formula to other marketable holidays, like Christmas or Black Friday. While you likely won't see as many aggressive sales or long campaigns, having a campaign ready to launch in January will help you build the hype. To get ready for Valentine's Day, your business should:
Ensure you have relevant products to promote

Prepare your marketing strategy in advance

Create content surrounding Valentine's, such as social posts, graphics, emails, or blogs
While you don't need to start promoting Valentine's Day months in advance, you also don't want to wait until the very last minute. According to email marketing trends, customers tend to shop for Valentine's Day throughout February, though the first few days of the month have been shown to account for 20% of sales.
6 Sales Strategies to Use This Valentine's Day
Depending on your industry, there are different approaches you can take to marketing Valentine's Day products and growing your sales. While promoting gift cards as a last-minute Valentine's gift is a given, there are a number of other ways you can capture shoppers in the days and weeks leading up to the holiday. Here are a few strategies we recommend trying.
1. Nothing says 'love' like free shipping
As customers have just come out of the holiday season where they've likely spent a lot on gifts and holiday fare, they're likely looking for deals when it comes to buying gifts for their loved ones. Offering free shipping gives you an edge over the competition and also helps entice customers to convert. Make sure to also clearly state your latest date to place an order for it to arrive by Valentine's Day to make it easier for customers to plan ahead. 
2. Curate a list of gifts
Getting a gift for someone can be nerve-wracking. Not everyone knows exactly what their loved one wants. Creating a section on your website for a Valentine's gift guide with products selected from your inventory and potential recipients. This will help guide your shoppers to the right items and is also a good way to move excess inventory that you have left over from the holidays. Here's a look at how Target presents its 2023 Valentine's Day gift guide:

3. Bundle items together for a memorable gift
Another great way to move inventory is to bundle items together to create a gift set at an attractive price. Items that are grouped together and wrapped in something like a basket or special gift box make it easier for shoppers who are looking for a ready-to-gift item. You can create bundles based on themes or items that are frequently purchased together. For example, a jewelry brand might bundle a necklace and earring set together at a discounted price as a special Valentine's Day promotion.
4. Host a giveaway or contest to share the love
One way to create buzz for any special Valentine's sales or products you might have is to host a giveaway or a contest a few weeks before the holiday. You can get creative with this and get customers to participate by engaging on social media, signing up for your newsletter, or registering for your loyalty program.
5. Promote more than just romance
For some people, just the thought of Cupid, hearts, and tons of pink elicits an eye roll. Luckily, Valentine's Day has evolved to not only be a holiday about romantic love but all kinds of love. That could mean love between family members, friends, or even self-love. In fact, 44% of women agreed that Galentine's Day, a day to celebrate female friendships on February 13th, is just as important as Valentine's Day. Use this trend in your marketing strategy to promote items as a gift to friends or even as a way to treat yourself. Here's how beauty brand, Olay, promoted Galentine's Day in a previous campaign:
6. Couple up with other brands
Whether you look locally or online, pairing up with other brands is another way to bundle gifts that are more likely to appeal to customers. For example, beauty or jewelry brands can offer a bundle including a box of chocolates or a bouquet of flowers as a gift. You can also look for opportunities to partner with existing bundles that other brands offer by offering your products to add to the bundle or gift basket. This can help you create more brand awareness while also moving overstock.
A work tool to make you swoon: meet Cymbio

For many businesses, the holidays are a peak selling time. But, with more sales comes more work, especially if your brand is selling on multiple retailers and marketplaces. Coordinating Valentine's Day sales across several channels presents a unique challenge. There's inventory to sync and then orders to process and ship according to different retailer guidelines. 

Automation tools like Cymbio can help you simplify these types of operations. With Cymbio, you can automatically sync inventory across all your retail channels, put your order management on auto-pilot, streamline payments, and easily manage your sales operations, all while keeping your overhead low. This will enable you and your team to focus your time on creating better sales bundles, coordinating marketing efforts, partnering with other brands, and generally getting your company ready for Valentine's Day or any other peak sales period.

Keep the lightness and fun in Valentine's Day and remove all the stress by automating otherwise manual and time-consuming tasks. Book a call with one of our retail experts so that you can see why so many brands have fallen in love with Cymbio.

10 E-commerce Trends to Prepare for in 2023

As technology continues to evolve, so does the way we shop. E-commerce is no exception, and we can expect to see a variety of trends in 2023 that will shape the way consumers shop and interact with brands online. 

With more people turning to online shopping for convenience and cost savings, the industry is projected to grow exponentially over the next few years. As we look ahead to 2023, we've compiled the most essential e-commerce trends you should be aware of this year.
1. Omnichannel shopping experience
Omnichannel will continue to become increasingly important for e-commerce brands in 2023 as customers continue to demand seamless experiences across all channels, from physical stores to online, mobile, and social media. According to Shopify, 73% of shoppers turn to multiple channels before making a purchase. 
Examples include personalized product recommendations, unified search across all channels, real-time inventory availability, and the ability to purchase items online and pick them up in-store. To optimize omnichannel strategies, brands will need to combine a variety of technologies and techniques, such as AI and automation, to create a unified experience that meets customer needs and preferences. 
2. Mobile shopping
Mobile shopping, dubbed m-commerce, isn't a new concept. However, the number of shoppers making purchases on mobile devices grows every year, making it a significant trend for brands to keep track of. By 2024, m-commerce is expected to reach nearly $4.5 trillion and will account for 69.9% of overall retail e-commerce sales.
To capitalize on this trend, businesses will need to make sure every part of their websites is optimized for mobile and that their checkout process is seamless. Additionally, businesses should focus on creating an engaging and personalized shopping experience on mobile to ensure customers have a positive experience.
3. Augmented reality and AI
As businesses strive to create more immersive and personalized shopping experiences for their customers, AI tools will be used to provide personalized customer experiences. Additionally, augmented reality will be used more and more by brands to enable customers to virtually view items.
There are many ways brands are currently using augmented reality. IKEA allows shoppers to see what furniture would look like in their homes and Sephora allows customers to shop for the right shade of makeup. This method of shopping is ideal for retailers selling clothing and accessories and can lead to more satisfied customers and increased sales.
4. Marketplace diversification
Many brands strive to sell their products on one of the biggest online retailers: Amazon. While this is a good way to drive more sales and reach a significantly larger audience, some brands are feeling the heat with the recent commission fee increase.
As a result, many brands are looking for ways to diversify their sales channels and are turning to other marketplaces and retailers. That's not to say that Amazon isn't still a good place to sell, but rather simultaneously selling on other marketplaces can help lower your overhead, find new customers, and remain competitive.
5. Social commerce
According to a report, 9 out of 10 people buy from brands they follow on social media. When it comes to social commerce, Gen Z is leading the way. In fact, 97% of Gen Zers say that social media is their top source when searching for shopping inspiration. 
Many social channels offer social commerce capabilities, such as Facebook, Instagram, TikTok, Pinterest, Twitter, and more. This leaves many options for brands to capitalize on by finding the channel that's most relevant to their audience and working on optimizing it for sales in 2023.
6. Payment options
Having a seamless checkout experience isn't only important for the mobile experience, but for the sales experience overall. In previous years, retailers have seen customers increasingly using diverse methods of payment to complete their purchases, and this trend is set to continue this year.
Aside from more traditional payment methods, like credit and debit cards, customers want other options, such as the ability to use digital wallets like PayPal or Google Wallet, vouchers, and paying with a buy now, pay later (BNPL) option like Klarna or AfterPay. As of 2022, there were 360 million BNPL users, and this number is set to double in the next couple of years.
7. Quick delivery
With the popularity of programs like Amazon Prime that offer same-day or next-day delivery, the majority of consumers are looking for brands that can offer quick delivery times. According to a study by FedEx, 70% of consumers said they'd be less likely to make a repeat purchase from a retailer if delivery was delayed without communication.
Of course, sometimes delivery delays are due to supply chain issues. While customers are aware of the supply chain challenges facing retailers, 60% of them still expect same-day, next-day, or two-day delivery.
8. Focus on your value
With an economic recession on the horizon for 2023, brands are unsure of how to navigate the uncertainty. As the cost of living increases and consumers look to reel in their spending, how might this affect individual brands and businesses? In truth, only time will tell how spending habits will change later this year, but brands can prepare themselves for this potential shift.
We'll see brands focusing on their value first above everything else. This can manifest as differentiating themselves from competitors, strengthening customer service and loyalty programs, and reinforcing seamless online or in-store shopping experiences. Highlighting value will help brands counteract consumer hesitance to purchase goods.
9. Sustainable products and behavior
According to a survey, 66% of shoppers are looking to shop at eco-friendly brands, with 52% of them agreeing they'd pay more for sustainable items. This might mean using less packaging or eco-friendly packaging, offering recycling programs, or selling fair trade items.
In order for a brand to be considered truly sustainable, however, it's not only its environmental impact that makes a difference. Sustainability encompasses environmental, social, and ethical practices, too. Companies are increasingly looking for ways to implement sustainable and ethical practices in all aspects of their business – from supply chain, to managing employees, and how products are made and packaged.
10. Responsive customer service
Just as consumers expect quick deliveries, they also expect responsive customer support. Chatbots have become more commonplace in order to provide instant support to certain customer inquiries when real agents aren't available. While a quick response time is an important factor for businesses going into 2023, it isn't the only aspect of customer service that matters.
Customers want flexible return policies and processes, as well as delivery communication and solutions when contacting support. According to a survey, 89% of customers would make a repeat purchase after a positive customer service experience, highlighting the importance of this trend in 2023 when customers are likely to be more prudent with their spending in light of a looming recession.
Get ahead of the trends with Cymbio
While there are many different strategies involved in preparing your business for each one of these trends, there are business tools that can help you simplify some of them. Cymbio is one of them. 
Cymbio allows brands to automate, streamline, and organize retailer and marketplace operations in order to bring down costs and reduce resources used. With Cymbio, you can prepare your company for these emerging 2023 trends by:
Easily connecting your products to social platforms to reach new audiences and sell on social channels
Boost your omnichannel strategy with intuitive automations such as syncing inventory across all sales platforms and putting order management tasks on auto-pilot

Connect with new marketplaces and retailers in order to diversify your sales streams and grow your bottom line all without dramatically increasing your overhead

Automate and speed up delivery tasks such as creating shipping labels and packing slips and triggering refunds when items are returned

Improve your customer experience with automatic reports analyzing retailer and marketplace activity to better understand your customers' shopping behavior
The earlier you adopt new practices to prepare for the emerging and growing trends of 2023, the more well-prepared your business will be during peak periods. Cymbio's case studies show how diversifying your sales channels by focusing on growing into new marketplaces and social channels results in overall business growth. In 2023, this strategy can also help curb the impact of the potential economic downturn and better protect your business against its impacts.

Schedule a call today with a Cymbio expert to understand how our platform can help your business grow in the new year.

12 Days of E-commerce Tips to Increase Revenue in 2023

With the holiday season in full swing, it's time to start thinking about how to boost your e-commerce sales in the upcoming year. As the e-commerce industry continues to grow, it's becoming increasingly important for online retailers to stay ahead of the competition and maximize their sales. Global e-commerce sales are expected to reach $5.4 trillion by the end of this year, up from $4.28 trillion in 2021, and it's showing no signs of slowing down in 2023.

Inspired by the 12 days of Christmas, we've rounded up our 12 best tips for you to take into 2023 to help you boost your revenue and set you up for your most successful year to date.
1.  Embrace automation
Automation can help e-commerce businesses streamline processes and reduce manual labor and costs. As a result, this enables businesses, especially smaller ones with limited resources, to focus more on high-value tasks like marketing, customer service, and improving the customer experience. Tools like Cymbio that are built around automating otherwise manual tasks between brands and retailers can also help streamline processes like inventory management and order fulfillment, making it easier for brands to scale without worrying about managing the technical side of things.
2. Grow your social media strategy
There are a lot of ways your social media strategy and your revenue growth strategy can intersect. If you aren't already engaged in social selling, 2023 is the time to start. Statistics show that B2B marketers that use social selling increase their number of leads by 33%. Aside from that, your social media strategy can have positive effects on your revenue in other ways, such as:
Increasing brand awareness to reach new interested audiences

Promoting products to a larger audience with paid campaigns or organic posts

Increasing referral traffic from your social channels to your website
3. Work on your customer service
By providing customers with timely, efficient, and helpful customer service, businesses can build trust with their customers and improve customer loyalty. This can lead to increased sales and higher customer retention rates, which can ultimately result in increased revenue. To accomplish this, invest in customer service technology such as live chat and customer management systems. You should also ensure your response time is quick, you're regularly gathering customer feedback, and that your customers can reach you on different channels.
4. Sell on marketplaces
Did you know that brands that sell on marketplaces generate 190% more revenue? Marketplaces provide access to a larger customer base and make it easier for customers to discover products. By only selling on your own website, you're limiting your revenue possibilities to one channel. Instead, expand to multiple marketplaces in order to get your brand and products in front of a wider audience.
If you're not yet embracing the power of retailers and marketplaces, Cymbio can help connect you with ones that are right for your business. Our platform also makes it easier to organize and maintain control of marketplace e-commerce operations.
5. Leverage retargeting
Retargeting reminds potential customers of their interest in a product or service to keep a brand top-of-mind, encouraging them to purchase. Retargeting can also be used to personalize ads to customers based on their previous shopping habits and interests, increasing the likelihood of a purchase. 
Many e-commerce platforms, such as Shopify, offer automated retargeting features, such as triggered abandoned cart reminders, making it easier for you to focus on this strategy in the new year.
6. Gather customer reviews
Reviews provide social proof, which can entice potential customers to make a purchase if they see that other customers have had positive experiences. Reviews can also help businesses to identify potential improvements that can be made to products and services, enabling them to optimize their offerings and increase revenue. Finally, reviews can help to boost your SEO rankings, leading to more organic traffic and potential sales.
7. Turn to influencers
The influencer marketing industry expanded to $16.4 billion in 2022 and it continues to grow at a steady pace year after year. If you're not yet on board this train, the new year is the time to start. Influencers can provide a platform to help promote products and services, increasing visibility and exposure, and leading to increased brand awareness. They also create content that helps generate interest, drive sales, and help brands establish relationships with customers, increasing loyalty and repeat purchases.
8. Grow your m-commerce
According to Shopify, nearly half, or 42.9% of all e-commerce purchases will be made on a mobile device by 2024. This is why it's important to grow your m-commerce, or mobile commerce, strategy in the new year. 
Consumers are increasingly using their phones and tablets to purchase products and services, so brands should take advantage of this trend by optimizing their websites for mobile devices, creating mobile-friendly shopping experiences, and offering mobile payment options. Additionally, businesses should consider launching mobile-only campaigns and promotions to reach new customers and drive more sales.
9. Take sustainable steps
Customers are increasingly looking for eco-friendly products, services, and brands committing to ESG values. By demonstrating a commitment to sustainability, brands can improve customer trust, drive brand loyalty, and attract new customers who value sustainable practices.
Nowhere is this more true than with Gen Z shoppers, who continue to have more and more buying power each year. According to a report, 67% of Gen Z shoppers prefer buying from brands that appeal to their social conscience. 2023 is the perfect time to embrace new sustainability and ethical practices to help grow your relationship with your audience.
10. Kick up your SEO strategy
SEO helps e-commerce businesses increase revenue by increasing visibility in search engine results, driving organic traffic, and improving conversions. While there's nothing wrong with running paid ads or relying on the branding and marketing of retailers and marketplaces, 60% of marketers agree that inbound SEO, such as blog content, is their biggest source of quality leads.
If you already have an SEO strategy in place, 2023 is the time to kick it up a notch. As many brands contend with rising costs and inflation, they're looking for ways to become more cost-efficient. Focusing your time instead on creating content that will rank rather than pouring your entire budget into ad spending has the potential to gain visibility and convert more leads.
11. Focus on multichannel marketing
We already mentioned how selling on retailers and marketplaces is a logical next step for brands hoping to scale, but those aren't the only channels you can expand to. Utilizing a variety of marketing channels can help brands reach a wider audience.
In 2023, try to run coordinated campaigns on different channels, such as email, paid ads, organic search, and social media. While it can be difficult to scale to new channels with limited time and resources, business tools like Cymbio can help you expand your business to sell on social channels as well, putting new marketing channels at your fingertips.
12. Expand your audience
You may have already honed in on your target audience and created a detailed buyer persona. However, once you've solidified who your audience is, you're left to market your products to a limited number of people. For some brands, this might work, however, it doesn't leave much room for growth.
Some of the strategies we've mentioned above will help you tap into new audiences. Selling on channels such as social media, retailers, and marketplaces might introduce you to a whole new market segment that is interested in your products for different reasons than your specific target audience, providing you with new revenue opportunities.
Unwrap the gift of growing your business this season

Whether you celebrate all 12 days of Christmas, just the evening, or not at all, there's no denying that the tips shared here will be the gifts that keep on giving in 2023. As business begins to quiet down at the beginning of the new year, take the opportunity to test out some of these new strategies to see how they work for you. If you're ever in doubt, schedule a call with our digital sales experts at Cymbio to see how we can help you grow your business and increase your revenue in the new year.

Q5: How to Maximize Your Marketing Strategy for the Hidden Quarter

Did you think the holiday season was over? Think again.

The fifth quarter, or Q5, is a relatively newer trend in consumer behavior that brands and marketers have started to realize is a continuation of the peak shopping season. Relax, there are still only four fiscal quarters in the year, but by recognizing and leveraging the "hidden" fifth quarter, brands can really maximize their profits and reach new customers.

Let's take a closer look at Q5, why it's worth running campaigns during this period, and the specific marketing strategies to use during this short bonus quarter.
What is Q5?
The fifth quarter in marketing refers to the period after the end of the traditional four quarters of the year. Q5 refers to the weeks between the end of the holidays and before we're fully into the full swing of Q1. While many brands take this time to relax, assess sales, and regroup before the new year, some others have been taking advantage of this "invisible" quarter to increase sales and boost brand awareness.
How can selling in Q5 boost your overall sales
After a busy holiday season, it can seem daunting to continue marketing campaigns and extend sales for another few weeks when many companies take a well-deserved break. However, if you look at Q5 as part of the holiday season and plan for it in advance, then this can turn out to be a profitable way to boost your sales even more. 
There are a few key reasons why running marketing campaigns in Q5 can be advantageous.
There's less competition
As most brands will be in the mindset of winding down and counting profits after Christmas and New Year, there's a lot less competition in the market when it comes to offering the best sales, leaving you with more space to create brand awareness and reach new audiences.
People are still looking to shop
According to a survey, 92% of consumers are still planning to shop after the holidays are over. As the holiday season draws to an end, many people are looking to return or exchange unwanted gifts and get themselves something they really want. Additionally, those who received gift cards or cash as gifts are looking to spend it while there are still sales going on.
Lower advertising prices
Given the decreased competition and the fact that it's right after peak shopping season, the cost for ads during Q5 is significantly lower. Ad prices increase before Black Friday and stay high throughout the holidays, and then take a dip once they're over. Advertisers who want to make the most bang for their buck can take advantage of these lower ad prices.
Strategies to boost sales in Q5
So, how can you take advantage of Q5 and use it to boost your overall holiday sales? There are a few strategies you employ specifically during this short window of time.
Capitalize on "new year, new you" shoppers
While shoppers leading up to Christmas were likely shopping for items for others as gifts, during this time of year, people are more likely to shop for themselves. In the run-up to the new year and right after it begins, people are in the mindset of resolutions and making personal changes. 
Brands in the space of activewear, beauty, or clothing can jump on this trend by showing consumers how their products can fit with their view of a "new me." Adjust your marketing campaigns to align with this messaging so that your products are shown in a light that will help make people feel confident and good about themselves.
Turn to social selling
A lot of people are off from work in the days between Christmas and New Year, and what are they likely to do after eating themselves into a food coma and spending too much time with family? They're going to look for ways to relax and disconnect, such as scrolling through social media more frequently. According to Snapchat, the company sees an increase in usage on Christmas Day, followed by a surge in app downloads afterward.
As more users are on social media after the holidays, this presents an excellent opportunity for brands to focus their marketing campaigns on these channels where they're likely to reach more potential customers. Brands can even benefit from the ads that retailers run on social platforms as it brings in more traffic to a retailer's website or marketplace, resulting in greater exposure to potential customers. 
Clear out excess inventory
Q5 is the perfect time to try and clear out as much excess inventory as you can before the new fiscal year kicks into gear. For items that didn't fly off the shelves as planned during November and December sales, now is the time to offer additional discounts to move those products. 
When running ads, make sure that you highlight special sale prices and product discounts to capture shoppers looking for a last-minute deal.
Retarget your ads
Did you have a lot of window shoppers during the holidays? Well, now's the time to take advantage of lower competition and lower-than-average ad spend to run a retargeted ad campaign to grab those uncertain consumers. 
Now that the holidays are over and people are back to being focused on shopping for themselves, it's more likely that they'll convert when they view retargeted ads for products that are now on sale.
How Cymbio can help you make the most out of Q5
It may seem daunting to continue to run sales after the holidays are over, especially if your company doesn't have the manpower or resources to spread yourselves even thinner after a tiring selling season.
That said, there is a way for brands to capitalize on Q5 without wearing themselves out. Lauren Silvermintz, Customer Success Manager at Cymbio, suggests taking a deeper dive into all digital sales channels. Silvermintz says that "expanding to digital retailers and marketplaces allows brands to further leverage sales and move excess inventory." By adopting these sales channels with the help of Cymbio,m brands can reach new audiences and automate sales processes throughout Q5.
Cymbio offers you full control of your inventory across all the retailers you're connected to, making it easier than ever to scale your business without scaling your operations. Cymbio can also help connect you with new retailers, marketplaces, and social media channels so that you can increase the outlets where you sell your products and profit on the late December and January shoppers. 
In conclusion
Don't be deterred by the prospect of extra work after the holidays wrap up. Figure your Q5 planning into your usual holiday marketing strategy, and with a tiny bit of extra effort and forethought, you can really maximize profits in this extra quarter. By turning to platforms like Cymbio, you can boost your Q5 sales by reaching new audiences and clearing out excess inventory through retailers and marketplaces.

Cymbio's Cyber 5 Roundup (Black Friday/Cyber Monday 2022)

It's time to wrap up another successful Thanksgiving shopping season and look toward the remaining holidays and the new year. Before we move on to Christmas celebrations and New Year's parties, we wanted to take a moment to see how our brands performed this Black Friday/Cyber Monday.

As a tool that helps merchants connect with retailers to increase sales channels, Cymbio saw a lot of our brands grow their sales numbers compared to last year. In 2022, our brands saw a 138% increase in order volume this Black Friday and Cyber Monday. 

We also helped brands sell 3-6X in merchandise during Black Friday/Cyber Monday compared to previous weeks.

"We're thrilled to see how our brands performed on Black Friday/Cyber Monday. Every year, we see these sales starting earlier and earlier, with high sales volumes beginning earlier in November," says Ilana Semel, VP Retail Partnerships, Cymbio. "Cymbio gives brands the confidence that their operations and processes are taken care of without any additional workload or needs from their team, enabling brands to get through these huge sales spikes throughout the holiday season, which demonstrates the power our technology has to support our sellers and nurture their growth.
Black Friday/Cyber Monday in numbers
Cymbio's brands saw a 3X increase in sales volume on Black Friday compared to the previous week's sales 
The top-performing categories for sales this year were jewelry, which saw a 5X increase in order volume and footwear, and apparel, which both saw a 3X increase
Compared to 2021, this year brands saw a double-digit increase in average order value
Gross merchandise value skyrocketed from last year, increasing 177% this year over 2021
In 2021, the average order value for our brands increased 138% YoY growth
Across the Cyber 5, sales were the highest on Black Friday, following was Saturday and Cyber Monday as #3
The results are in: Cymbio helps brands grow
This Black Friday season solidified what we already suspected: brands that scale with Cymbio achieve steady growth through selling on retailers and marketplaces. 

While the peak shopping season is the best time to benefit from diversifying your selling channels and expanding to new retailers, this strategy yields results all year long. For brands who are concerned about maximizing inventory especially after the holiday season, turning to a multichannel sales strategy can help alleviate the stress and put your current inventory in front of a new audience. 

With Cymbio, you don't need to worry about scaling your budget or your team in order to do so. We'll take care of the technological back end in order to connect your brand with new retailers and marketplaces. Not only that, but we work so you don't have to. This year, we saw that the Saturday after Black Friday had a higher sales volume than Cyber Monday, meaning Cymbio is there to pick up the slack while your team is enjoying a well-deserved weekend off. 

Additionally, other processes such as inventory tracking, order management, and payouts are automated through Cymbio, cutting down on the time and resources you'd need to dedicate to scaling your store.

Cymbio Launches Support for Amazon!

Cymbio is excited to announce a new integration with Amazon, which will help brands sell on Amazon and help Amazon sellers automate their sales processes.

To date, Cymbio has provided our customers with the ability to sell on over 800 marketplaces and retailers worldwide. As one of the world's most recognizable e-commerce platforms, Amazon now joins our ranks, leaving the door wide open for new sales opportunities for Cymbio customers.
What does this mean for you?
Well, any brand selling with Cymbio can now automatically connect with Amazon's marketplace with the same great automation features we offer on other retailers and marketplaces. That includes managing inventory, syncing product data, order management and fulfillment, and streamlined billing.
Why is this so exciting?
We love helping our brands grow. Really, it's our raison d'être. 
With this partnership, brands connected to Cymbio now have the ability to grow and scale their businesses on the largest e-commerce platform in the world, putting their products in front of new audiences.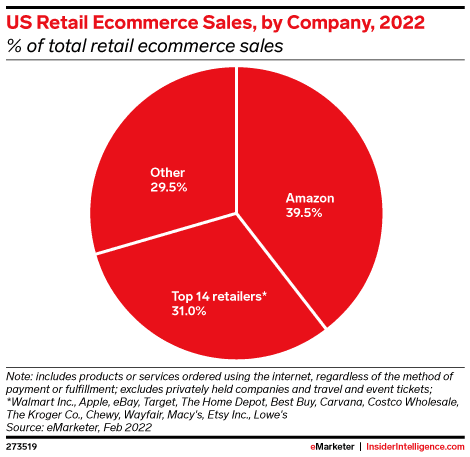 This year alone, Amazon is expected to account for almost 40% of all US e-commerce sales. In other words, of every $5 spent online, nearly $2 goes to Amazon. As a budding e-commerce brand, who wouldn't want a slice of that pie?
How can selling on Amazon grow your business?
Unless you've been living under a rock, you probably already know that Amazon is one of the first places shoppers go when looking for products. In fact, in a survey, 89% of buyers agreed that they were more likely to purchase from Amazon than from other e-commerce sites.
As the leading e-commerce brand, Amazon is a trustworthy household name. Match this level of consumer trust with the company's total revenue for 2022 standing at $502 billion, and you have the perfect storm for increasing sales and growing your brand.
So, what are you waiting for?

If you're ready to get started, contact Cymbio's customer support team to see how we can help expand your business to Amazon. 

Not yet a Cymbio customer? Let's fix that. Chat with an expert today to see how we can get your business on Amazon and any of the other retail sites we partner with. 

Everything You Need to Know about Cymbio Finance

Today, brands that engage in multichannel sales with drop ship and marketplace retailers must contend with long net terms (affecting their cash conversion cycle) and significant operational and administrative overhead. In fact, the financial flow is among the top 3 concerns of marketplace and drop ship sellers (strategy, financial flow and inventory) as accounts receivables (AR) teams are required to manually manage invoices and match with incoming payment for each channel.

When looking for financing services to improve liquidity, brands find out that existing solutions are not built for multichannel e-commerce sales and are too complex, require manual operations and are expensive. 

But with the launch of Cymbio Finance, we now offer next-day payouts and automated fin-op for brands' multichannel sales. 
What is Cymbio Finance?
Cymbio Finance is our new fin-ops automation tool with built in financing service. It automates payment collection and reconciliation, streamlining cash flow for multichannel drop ship and marketplace sales. It enables brands to get paid instantly for the products they sell online – without having to add to their current operations. This new service ensures that our customers get fast access to cash for their multichannel sales and eliminates fin-ops overhead of drop ship and marketplace operations.
LEARN MORE ABOUT CYMBIO FINANCE–>>
How Does Cymbio Finance Work?
Unlike traditional retail financing companies, Cymbio is – first and foremost – a digital sales growth platform, connecting brands to marketplaces and retailers, onboarding and listing their products, managing inventory, orders and billing, and helping the brands grow their revenues. The launch of an automated financing option into the product mix further strengthens our ability to help brands grow their business. 
By automating Cymbio Finance, brands will receive the following benefits: 
Cash Flow Streamlining: Receive automated daily payouts for the previous day's sales

Reconciliation: Automatically manage incoming payments and match invoices to simplify the reconciliation process

Retailer and marketplace payment collection handling: Reduce the overhead of collections and disputes handling

Reporting and analytics: Improve and plan budget and operations ahead of time
Why Cymbio Finance?
Cymbio Finance solves multiple pain points in the financial workflow and will allow brands to improve efficiency and liquidity, putting their money back to work faster. With the launch of Cymbio Finance, brand partners are offered a growth spurt opportunity, which will create a flywheel effect for them, as their multichannel sales will now have the same payment terms as DTC sales, allowing for continued growth. 
Early adopters of the tool have already shortened their cash cycle by an average of 32 days, which is significant, especially in today's economy. With Cymbio Finance, brands now have a true end-to-end solution for taking the multichannel commerce approach.  
LEARN MORE ABOUT CYMBIO FINANCE–>>
Get Paid Instantly and Eliminate Fin-Ops Overhead
LEARN MORE

Gain Access to Macy's New Marketplace Through Cymbio
It looks like Macy's is preparing for increased holiday sales this year as they just launched a third-party marketplace run by marketplace platform Mirakl. So what does this mean for retail brands, and how can you gain access? 
Macy's Monumental Move
With Macy's new marketplace model, the department store leader can now offer a wider assortment than it currently sells in stores or online, including more than 20 product categories and 400 new brands. They are also offering a wider selection in popular categories such as pets and are offering items and products that you simply cannot get in their stores.
By adding this monumental marketplace model, they will be attracting more brands by giving them the power to connect and sell on their platform in a way that is ideal for them. New brands, categories, and products will provide brands access to billions of customers and gain massive global viability – not to mention seamlessly scaling and increasing sales.
Macy's is helping continue the trend of adding a marketplace model for sellers to connect and sell as they see fit. Other department stores that added a marketplace model to the mix are Saks Fifth Avenue and Hudson Bay, many of which have ventured into a curated marketplace assortment. Macy's wants to provide what their customers are looking for so that customers won't get shopper fatigue. 
The Macy's/Cymbio Connection
As a selected partner of Macy's, brands that work with Cymbio benefit from automated backend operations with our platform. Our seamless connection automates all product data to inventory, mapping, taxonomy, orders, documents and billing to cash flow management and analytics between you and Macy's.

"Macy's announcement of their marketplace is a win-win for brands who are able to benefit from Macy's scale and customer base – an amazing opportunity for brands to show a wider assortment and newness." – Roy, CEO of Cymbio

Being brand-oriented is extremely important to us, and aligning with top marketplaces like Macy's is just one of the ways we help you scale and adapt to the ever-changing e-commerce marketplace. 

Breaking Down Event-Based APIs vs Classic APIs

Our world is changing. From the COVID pandemic that came and is almost gone, to the unexpected European conflict, huge drought spells around the world, and cargo ships blocking and disrupting the supply chain around the globe – it seems like there isn't a minute's rest. Sometimes change is hard, but sometimes it's an exciting evolution. 

The tech world is also constantly changing. This is something that we all learned to expect, and by now, take it naturally – from search engines and video streaming services to online banking, and so on.

The e-commerce world is no different.

It has never been easier to mount a new e-commerce venture. Even if you are a small business, it's now easier to create your own new digital presence and compete with large, established corporations.

This ease of action is made possible by new technologies, new platforms, and new abstractions. 
The History of Data Interchange
Since the 70s, the protocol or standard of choice to exchange information was the EDI (Electronic Data Interchange). This protocol was devised to describe invoice orders throughout various industries, spawning quite a few new subsets of standards. Much like the XML standard, where everyone could have their own implementation, the EDI was no different (look for X12, EDIFACT, etc.)
The National Institute of Standards and Technology defined electronic data interchange as "the computer-to-computer interchange of a standardized format for data exchange. EDI implies a sequence of messages between two parties, either of whom may serve as originator or recipient. 
It is important to note that EDI is not exclusively used in the e-commerce world – different standards can be found in Transport (UN/EDIFACT), Automotive (ODETTE/VDA), Medical (HIPAA), etc.
What was once accomplished through fax gradually advanced to emails, and with the further advancement of the digital world, evolved into robots and servers, generating text files and uploading them to an agreed-upon FTP/SFTP folder, or a VAN (Value Added Network). From here, a different listener would set a hook that can be triggered on the upload of this new file, read the incoming file, parse it, and trigger any business workflow it needed according to said file. And if further needed, will reply with his own EDI text file to be transmitted with acknowledgment or any other further information needed back to the initiating party.
Transferring files in this way is a very cumbersome and lengthy process. It has quite a lot of moving parts, and as such, is subjected to errors. As we move more and more into faster trading flows, this puts a significant throttling on the speed at which companies can react.
Machine-to-Machine Communications – API
Entering the next phase of machine-to-machine communications is API. Using web based APIs, we have switched from an async process to a faster flow using (first) custom XML. At first, everyone was using XML, and it quickly became clear that a standard was needed. A few years passed, and a new standard was born – the (now) infamous SOAP. 
The Simple Object Access Protocol is a messaging protocol that sits on top of XML and attempts to bring structure to how a message is described. It is intended to be used as an XML-RPC (XML Remote Procedure Call), a messaging protocol layer for distributed systems (such as the world wide web), and consists of 4 basic types – Envelope, Body, Header, and Fault element.
The adoption of this was not that fast. Since, well, it was not really as simple as the name implies, and it added a level of verbosity to the sometimes overwhelming message.
All praise JSON.
JSON, as we know, stands for JavaScript Object Notation. We all agree that the fact that we have JavaScript in the name does not mean that we can't use it in other languages, and it proves once more that there are only two hard things in Computer Science: cache invalidation and naming things (Phil Karlton).
Everybody likes JSON, as it's a less verbose format. XML permutation, is still readable by humans, and the actual message payload is significantly less than that of its counterpart XML/SOAP, moving us to a larger payload for less time.
But we are still left in the API domain. And for a long time, this was and still is the most popular means of communication between servers. Facebook GrapthQL is giving a strong fight, and gRPC and its binary payload are also popular, but still, the main data transport is in JSON on top of the API.
Now, we see more and more a new emergence, where strong technical companies opt to move away from the API approach and embrace Event-Driven Communication as tools such as Apache Kafka, Google PubSub, and Amazon SQS.
So what is an event-based system?
An event can be described as an agent or action designed to provide a change in state. It's easy to think of an event (in our context of e-commerce) as what happens when a customer adds or removes an item from his shopping cart. Each time the user clicks on the 'Add item' button, an event is sent to the server with the item added and its quantity (for example). All events are stored in the order that they were received (First-In, First-Out – FIFO), and when we want to show the user the contents of his cart, we loop the added item event and calculate the current state.
An event system is comprised of:
Event producer – responsible for creating and publishing the event

Mediator/Broker – the part in the system responsible for propagating the events

Event consumer – the entity interested in this event, who will initiate some flow on receiving the said event
So when we are comparing classic API vs event, in the API mode, we have a request followed by a response – synchronous communication. When dealing with events, we publish an event, and when the system is ready, it will process it – an asynchronous flow. 
When we send a large amount of data in a classic API request, we need to wait until the receiving system has loaded all the data. This has a huge impact on memory, while in an events system, we can stream the data, and the receiving end will read the stream (incoming events) that are smaller in size, making the memory footprint much smaller – hence → scale.
Using an event-driven system was and still is the number one go-to solution when talking about scaling traffic to your system. This approach allows for a "fire and forget" approach, where you publish an event, knowing that it will be picked according to the end-system availability.  This is compared to the classic API approach, where you force the system to respond to you, or better still, expect them to, not knowing what their current availability is. This forces you to add request failures and implement short circuit mechanizing, helping us understand that while in API mode, my system is more brittle and requires a lot of supporting flows and pipelines.
This approach worked well for the last 10-20 years, but the world is changing and evolving. The digital footprint of a company and the traffic that the e-commerce domain is experiencing today is ten times more than it once was, and your system and architecture must account for this.
Adding more machines behind a load balancer will only get you so far. Event-based systems, both in and out of your system, are the way to go.
Today, outside of authentication flows, APIs cannot operate on a fire and forget principle – an event-based system is a good and strong option.
Cymbio at Work
We, at Cymbio, are operating as a drop ship and marketplace platform. We have hundreds and hundreds of integrations with retailers on one side and suppliers and warehouses on the other. Our system needs to be able to support many protocols so we can talk with all the systems in existence. We have to understand custom XMLs, SOAP, JSON, and EDI. We must know how to operate with classic APIs and file transfer protocols, allowing us to be in the unique position to understand what is going on, on the IT side of the drop ship world. Several of our biggest customers have switched to an event-based system, and when I say biggest, I mean in GMV and features. More features and traffic means more tech-savvy and we can say that the direction is clear.
Developing a robust and flexible system that can answer all of these features and capabilities means that we need to continuously update how we are developing. Creating an integration platform that is agnostic to the communication paradigm and protocols pushes us to go forward and adopt a ports and adapters architecture (sometimes referred to as hexagonal architecture).
Moving to this area is very exciting for us. We hope to be able to support a wider variety of platforms and business opportunities while using advanced and cutting-edge technologies that help us have strong developer retention and commitment – which is a win-win, both for our business and our internal engineering culture.
Conclusion
In this article, I've referenced the shift that we see today in the e-commerce business to the business domain. We understand that this increase in business means an increase in traffic and data and the need to scale is ever more important. 
The API approach, albeit very good for some, is becoming a bottleneck for others – and if you want to be big, you must adopt big changes.
Adopting event-based API allows companies to scale better and easier, helping to promote a fast feature adoption since the contract between clients is easily pushed forward.
Written by: Eyal Mrejen, VP Engineering @Cymbio