Cymbio is excited to announce a new integration with Amazon, which will help brands sell on Amazon and help Amazon sellers automate their sales processes.
To date, Cymbio has provided our customers with the ability to sell on over 800 marketplaces and retailers worldwide. As one of the world's most recognizable e-commerce platforms, Amazon now joins our ranks, leaving the door wide open for new sales opportunities for Cymbio customers.
What does this mean for you?
Well, any brand selling with Cymbio can now automatically connect with Amazon's marketplace with the same great automation features we offer on other retailers and marketplaces. That includes managing inventory, syncing product data, order management and fulfillment, and streamlined billing.
Why is this so exciting?
We love helping our brands grow. Really, it's our raison d'être. 
With this partnership, brands connected to Cymbio now have the ability to grow and scale their businesses on the largest e-commerce platform in the world, putting their products in front of new audiences.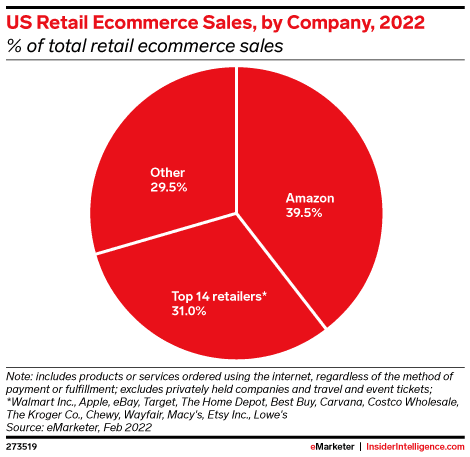 This year alone, Amazon is expected to account for almost 40% of all US e-commerce sales. In other words, of every $5 spent online, nearly $2 goes to Amazon. As a budding e-commerce brand, who wouldn't want a slice of that pie?
How can selling on Amazon grow your business?
Unless you've been living under a rock, you probably already know that Amazon is one of the first places shoppers go when looking for products. In fact, in a survey, 89% of buyers agreed that they were more likely to purchase from Amazon than from other e-commerce sites.
As the leading e-commerce brand, Amazon is a trustworthy household name. Match this level of consumer trust with the company's total revenue for 2022 standing at $502 billion, and you have the perfect storm for increasing sales and growing your brand.
So, what are you waiting for?
If you're ready to get started, contact Cymbio's customer support team to see how we can help expand your business to Amazon. 
Not yet a Cymbio customer? Let's fix that. Chat with an expert today to see how we can get your business on Amazon and any of the other retail sites we partner with.